Legislative Update, Jan. 8th
FRANKFORT – Nine days.
That's how long Kentuckians had from their first look at any redistricting map until all four made it through the General Assembly.
Nearly half of that time was the long New Year's holiday weekend, and the first votes were taken only two days after legislators – and the public – had enough data in hand to actually see the maps' impact at the local level.
Even if Governor Beshear uses all 10 days a governor has to review legislation and then decides to reject the maps, the expected veto override would fall three weeks after the entire process began. Barring a successful court challenge, these new state House, Senate, congressional and Kentucky Supreme Court districts will be in place for at least a decade, until the redistricting process starts again.
There has never been a better textbook example of how NOT to pass such a significant law. This speeding train was at its destination before many Kentuckians even knew it was at the station, which appears to have been the goal all along.
And these are the most important laws of them all, because the maps' boundary lines play a major role in determining who represents you in Frankfort and Washington, D.C. These maps amplify voices and reduce others even before an election is held.
They should have been unveiled weeks if not months ago, to give citizens time to absorb and comment on the proposed changes, but time and transparency are in short supply right now in the state Capitol.
So, too, are maps that actually reflect who we are, because these certainly don't. First, they slice and dice the cities that drove our population growth over the past decade; Lexington, for example, currently has seven House districts within its borders but is set to have only six, despite the fact that it grew by nine percent over the past decade.
Other communities like Bowling Green, Hopkinsville and Covington are also adversely affected, and the House map minimizes the voices of minorities despite the fact that they are the sole driver of our population growth. Between 2010 and 2020, their numbers grew by more than 200,000 people, while the white population declined by 34,000.
The League of Women Voters of Kentucky is exactly right in saying that many counties 'have been divided in quite destructive ways.'"
Another negative consequence of these new maps is that, in the state House, five of the eight legislators paired in a new district are women. They comprise just under a third of the 100 members but are poised to be about two-thirds of those who will have to face each other in May's primary. Kentucky is 34th in the percentage of women serving as state legislators, according to the Center for American Women and Politics, and this decision moves us in the wrong direction.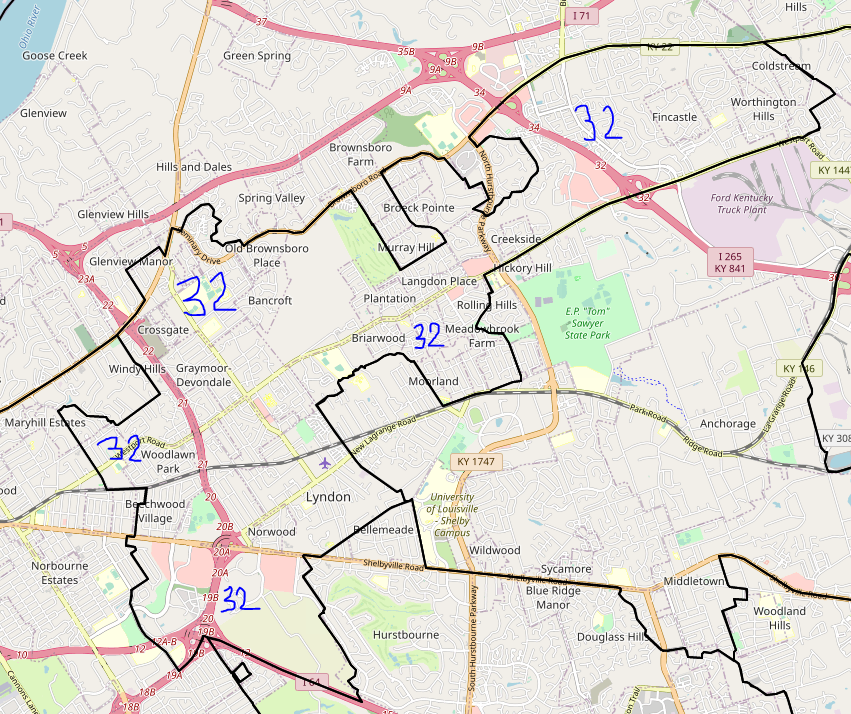 The proposed boundaries for District 32 eliminate some of the northern and southern precincts of the current district and take the district out Westport Road to the county line. The solid lines on the map above indicate district borders.
The House Democratic Caucus submitted a revised House map that shows there is a much better way. It preserves our communities and promotes minority voices while still meeting all other constitutional requirements. It will provide a counterpoint if, as expected, there is a court challenge.
The decision to rush these maps this past week wasn't the only one undercutting the public's right to know. New House rules put in place on Tuesday regrettably make it easier for the House to limit debate while requiring very little notice about what bills committees are considering, making it tougher for you (and me) to educate ourselves about these bills and to offer changes to them.
On Friday, meanwhile, Republican leaders went against longstanding tradition by filing their own budget bill before Governor Beshear could present his. While the legislature ultimately is the one to write the state's spending plan, this protocol violation does little but broaden the divide between our Executive and Legislative branches. Both the governor's budget and the House budget are supportive of public education. I'll have details on the proposed budgets in my update soon.
There was a positive highlight this past week, and that was Gov. Beshear's State of the Commonwealth address, a tradition that dates back to our first governor. The twin focus of his remarks were the resilience and compassion seen since last month's deadly tornadoes and the hot economic streak Kentucky has seen for years now. In 2021, he said, we saw companies announce more than $11 billion in investments that are on track to create more than 18,000 jobs. That kind of growth shows we are doing a lot of things right.
The first week of the 2022 legislative session may be over, but there are still more than four dozen working days left before we have to adjourn in mid-April. Your input in this process is vital.
All legislators now have an option to post a survey on the Kentucky General Assembly website. For the next couple of weeks, I'll have a link to a survey that addresses a variety of issues that are likely to be discussed this session. As the session progresses, I'll have targeted surveys to seek your position on specific bills as they move through the legislative process. To complete the current survey, click on the following link: Survey for Tina Bojanowski. Thank you to the constituents who returned a paper survey; unfortunately, we don't have the budget to send one to every household in the district.
You can keep up with such things as bills and votes by visiting the General Assembly's website (legislature.ky.gov). To leave a message for me or any other legislator (or all of us), you can call 1-800-372-7181. This service is available during normal business hours throughout the year, but is open longer during legislative sessions.
If you would like to watch legislative proceedings, KET has an app for that, and you can also search for "LRC livestreaming" which will take you to the website where you can access meetings as they happen. All are also archived.
In addition to leaving me a phone message, you also the have the option to email me at [email protected].
I hope to hear from you soon.