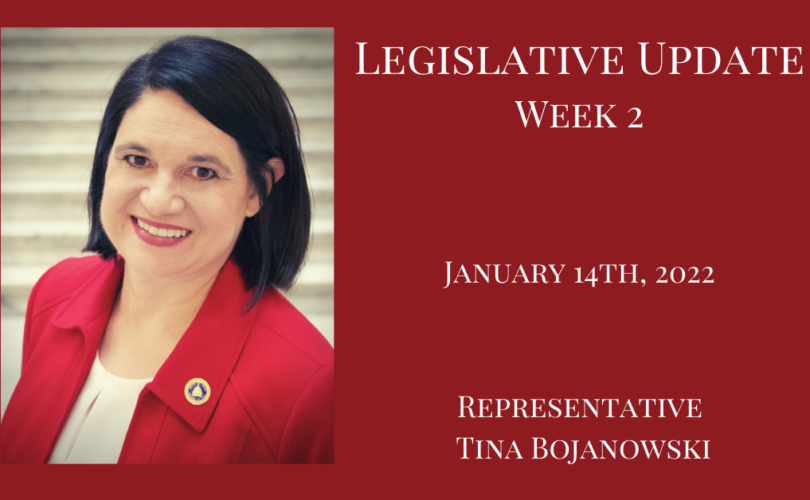 Legislative Update, Jan. 14th
FRANKFORT – When Republican House leaders filed their proposed two-year budget almost a week before Governor Beshear delivered his, they may not have realized their unprecedented move was actually a gift.
Instead of having the traditional one day to present his vision for the commonwealth, the governor chose instead to take several, highlighting a spending plan this past week that stands in stark contrast to what House leaders offered. At a time of record revenues, the governor's budget packs a punch.
House Republican leaders say they want to rush the budget so they can spend more time focusing on tax reform. That's especially worrisome, because in 2018, the last time they made major tax changes, that plan was made public in the morning and through the General Assembly by the evening.
That legislation is why you and I and so many others now pay sales tax at the vet, the dry cleaner, the gym, and for vehicle repairs. It's why many retirees pay $500 more a year in state income taxes. The Kentucky Center for Economic Policy said it raised taxes on 95 percent of Kentuckians overall.
It was wrong then to make such major changes in a matter of hours, and it's wrong now to move quickly ahead with a budget that unnecessarily underwhelms. It begs the question why the House leaders are so determined to hold Kentucky back.
Gov. Beshear's budget spends $2.3 billion more than theirs while still maintaining a "Rainy Day" fund that, on a percentage basis, more than doubles our historical goal.
While they want billions of dollars to sit somewhere in a bank, he wants to take this once-in-a-lifetime opportunity to do far more. The most telling differences are in education.
Only his budget, for example, would fund preschool for all four-year-olds, a game-changer that would make it much more likely that these young children are ready for kindergarten. Currently, just half are fully prepared when they first step into a classroom. Universal pre-K would also save many families thousands of dollars in childcare costs.
For those in school, the governor's budget would increase per-pupil spending by almost 13 percent and raise the state's base funding for elementary and secondary education.
Governor Beshear's budget proposes about $500 million so our public postsecondary schools can make much-needed renovations, and he would make it possible for nearly 10,000 people to get their associate's degree without having to pay tuition.
He also advocates for the return of the Bucks for Brains program that, two decades ago, powered a huge influx of research dollars into our public universities. Kentucky has long been at the forefront when it comes to finding new ways to treat cancer, Parkinson's and Alzheimer's diseases, and spinal cord injuries, and this money is a major reason why.
Thanks to last year's federal stimulus packages, Kentucky still has $1 billion to spend on a host of potential programs and projects. Gov. Beshear recommends $250 million for water/wastewater grants and $400 million for bonuses for frontline and essential-support workers who have risked so much during the ongoing pandemic.
Other House Democratic Caucus members and I strongly support this, and we held several meetings last year to hear from the workers themselves about the challenges they have faced and why they need these bonuses.
Gov. Beshear sets aside money for at least five percent raises for school employees and state employees would get their first sizable increase in more than 20 years, something needed to keep that workforce strong.
Other areas of the governor's budget would:
Reduce the nursing shortage by expanding scholarships for students and loan-forgiveness programs for those already in the profession;
Expand funding for rape crisis and domestic violence programs by a third;
Spend $200 million sprucing up our state parks;
Return all coal-severance dollars to the counties responsible for them;
Invest $100 million in electric-vehicle charging stations across the commonwealth; and
Create a new disaster-relief and emergency fund with $100 million, so the state can more quickly respond rather than having to wait on the legislature to act.
With that in mind, there was one area this past week that provided a bipartisan highpoint. The General Assembly passed and Gov. Beshear signed into law a $200 million package for those areas devastated by last month's deadly tornadoes. $45 million will be made available immediately.
The legislature and governor also backed legislation that will extend critical emergency orders and give schools more remote-education days and greater flexibility in how those days are used (SB25). As the pandemic's case numbers continue hitting record highs, this change is certainly needed.
I spoke on the floor about my concerns that teachers must report to work in-person while students are on NTI. It would be logical for teachers to work from home to mitigate the chances that they become exposed to Covid, which would add to the number of teachers having to be out sick, and potentially decrease the number of teachers available to safely open schools for in-person instruction.
Because of the Martin Luther King Jr. holiday, the General Assembly will only meet for four days this coming week, but it promises to be busy as House budget hearings are expected to get underway and other legislative committees pick up the pace.
The House Education Committee will be hearing HB63 on Tuesday. The bill requires districts to have an armed student resource officer in every building by August 1, 2022, but eliminates a statement that SROs are required only as funds and qualified personnel become available. HB121, a bill that requires a public comment period for each regular meeting of a board of education, will also be heard. I'll keep you updated as these bills and others move through the legislative process.
All legislators now have an option to post a survey on the Kentucky General Assembly website. For the next couple of weeks, I'll have a link to a survey that addresses a variety of issues that are likely to be discussed this session. As the session progresses, I'll have targeted surveys to seek your position on specific bills. The current survey is the same as I posted last week. To complete the current survey, click on the following link: Survey for Tina Bojanowski. Thank you to the constituents who returned a paper survey; unfortunately, we don't have the budget to send one to every household in the district.
You can keep up with such things as bills and votes by visiting the General Assembly's website (legislature.ky.gov). To leave a message for me or any other legislator (or all of us), you can call 1-800-372-7181. This service is available during normal business hours throughout the year, but is open longer during legislative sessions.
If you would like to watch legislative proceedings, KET has an app for that, and you can also search for "LRC livestreaming" which will take you to the website where you can access meetings as they happen. All are also archived.
In addition to leaving me a phone message, you also the have the option to email me at [email protected].
I hope to hear from you soon.