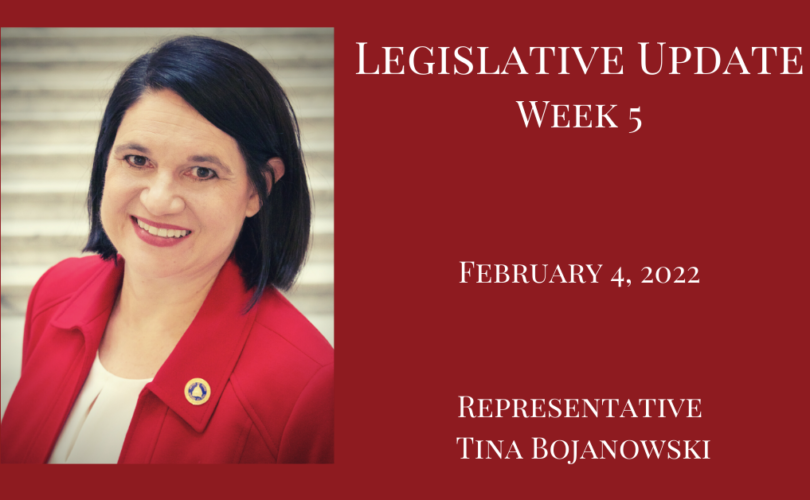 Legislative Update, Feb. 4th
FRANKFORT – Just as it did for many Kentuckians, the arrival of what is hopefully the last major storm of winter put an early end to the General Assembly's work week on Thursday. Nevertheless, there were some consequential moments during the four days legislators did meet, some of which were more illuminating than perhaps House leaders had intended.
On Monday evening, I was a guest on KET Tonight. The topic was SB50 & HB305, companion bills that increase the threshold for qualification for scholarship tax credits for private and religious schools, as well as divert more tax dollars ($50 million and $100 million, respectfully) to private entities. The bills build upon HB563 from the 2021 regular session.
The KY Constitution states that education is a fundamental right and that the state has the duty to deliver education to all students through a common system. HB563 from last session, as well as SB50/HB305, by design, allow private and religious schools to discriminate. Last year, 51 members of the House voted against an amendment stating that schools would "not discriminate based on race, creed, color, ethnicity, nationality, disability, age, sexual orientation, or gender identity." In addition, the private and religious schools are exempt from all of the safeguards and accountability measures that apply to public schools. Two aspects of HB563 were found to be unconstitutional. While SB50/HB305 correct one issue, the other unconstitutional issue from HB563 remains in the bills.
The best example of consequential legislation took place just before we all headed home for the long weekend, when the House voted overwhelmingly for two COVID-related bills. House Bill 56 would grant in-the-line-of-duty death benefits to the family of any first responder who has died because of the virus, while House Bill 69 would re-affirm and extend a 2020 executive order from Governor Andy Beshear that presumes anyone from a specific list of frontline and essential-support professions got infected while working, if they test positive.
I proudly support both bills and believe they should quickly become law. However, they could and should have gone much further. One omission from the legislation is teachers and other school workers, despite the fact that dozens of them have died from COVID since the pandemic began nearly two years ago.
This follows a similar trend we saw in the two-year state budget House leaders presented last month. Governor Beshear had recommended $400 million in federally funded bonus payments for frontline and essential-support employees, but the House proposal doesn't include a single dollar for something similar, even with more than $1 billion set aside for still-unknown "tax reform."
Other legislators and I were told that such a list of professions could not be realistically compiled – and then such a list was the very basis for House Bill 69.
Last fall, the House Democratic Caucus held several meetings to hear directly from those whose professions have borne a considerable burden because of COVID. It is troubling that these workers have yet had a chance to make their case for bonus pay before the full legislature.
It is also troubling that the extension of Governor Beshear's 2020 executive order on workplace protections was even necessary. The bill's sponsor said these provisions were "inadvertently left out" during a September special legislative session focused on COVID, but there were warnings then about this oversight. I'm happy to see that it is on track to be corrected and extended for another year, but it should have been law all along.
There was another bill to clear the House this past week that threatens to make similar mistakes. In this case, House Bill 121 would require that all public school boards have at least 15 minutes set aside for public comment, if anyone signs up for it. Elected officials should always be accountable to those they serve, but public safety must be part of the equation. Here and across the country, we've seen school board members physically threatened because of COVID-related and instructional issues.
There was an attempt to give school boards the opportunity to withhold in-person comment if there are safety concerns, but that was rejected. So, too, was an amendment I called to require the General Assembly's own committees to have a public-comment period. If we are going to order it for one elected body, we should be willing to abide by the same rule ourselves.
On Tuesday, HB226, a bill for early literacy, passed out of the House A&R Committee. I was honored to work with Rep. Tipton as the primary co-sponsor and will be advocating for the bill to move through the Senate. HB226 creates the "Read to Succeed" fund which will provide professional learning and a coaching model for primary elementary school teachers to be better prepared to teach reading.
There was legislation this past week that did draw almost universal support. One of those is House Bill 317, which would make it easier for charitable organizations to help Kentuckians who cannot pay premiums or other payments to their health insurers. Right now, insurers can block this assistance if they choose, something that the American Kidney Foundation said it often faces. I'm not sure why insurers care how their premiums and other costs are paid, but this fix will make it easier for many families to get the health services they need without added risk of bankruptcy.
The House also voted unanimously for House Bill 339, which would set aside more money to cover inpatient psychiatric services in Eastern Kentucky. This region has been chronically underfunded for quite some time and deserves to have this boost so that all regions of the state are treated evenly.
In another moment of bipartisanship, the House kicked off Black History Month on Tuesday by honoring a former member, Darryl Owens. Darryl, who passed away in early January, was a civil rights and social justice icon who was also Kentucky's first Black assistant Attorney General and the first Black person elected to Jefferson County Fiscal Court. As a legislator, he also championed expungement laws and restoring felon voting rights.
Two days after that recognition, President Biden tweeted that he supported the posthumous promotion of Colonel Charles Young as a Brigadier General. Now-General Young, born in Mason County in 1864, was one of the famed Buffalo Soldiers and became the first Black person to achieve the rank of colonel in the U.S. Army. Gov. Beshear posthumously promoted Colonel Young two years ago, and President Biden's decision to extend that honor across the U.S. Army is a fitting tribute to a true American hero.
As we approach the halfway point of the 60-day legislative session, I want to thank everyone who has contacted me with their views about these and many other bills. There is still plenty of time to join them, if you'd like.
All legislators now have an option to post a survey on the Kentucky General Assembly website. This week I continue to seek feedback on SB1, an act regarding school site-based decision making councils (SBDMs). To complete the survey, click on the following link: SB1 Survey for Tina Bojanowski.
You can keep up with such things as bills and votes by visiting the General Assembly's website (legislature.ky.gov). To leave a message for me or any other legislator (or all of us), you can call 1-800-372-7181. This service is available during normal business hours throughout the year, but is open longer during legislative sessions.
If you would like to watch legislative proceedings, KET has an app for that, and you can also search for "LRC livestreaming" which will take you to the website where you can access meetings as they happen. All are also archived.
In addition to leaving me a phone message, you also the have the option to email me at [email protected].
Take care and stay healthy,
Tina Bojanowski