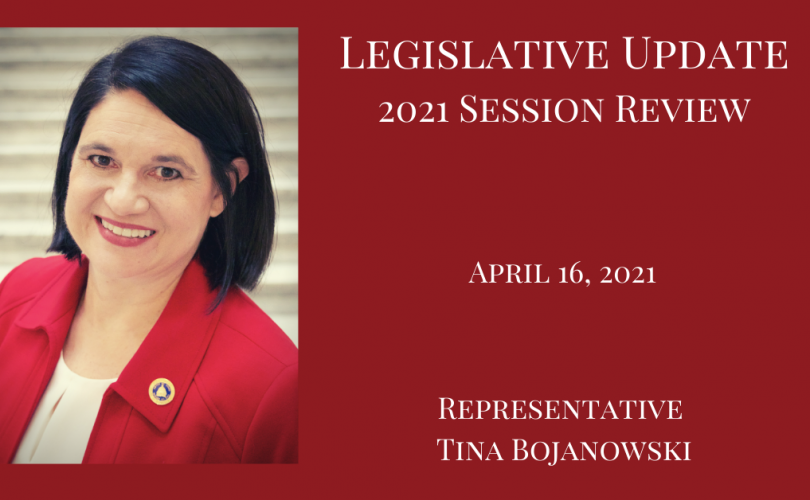 Legislative Update, April 16th
FRANKFORT – While this year's legislative session was particularly busy – the General Assembly averaged almost seven new laws for each of the 30 days it met – there were quite a few initiatives that regrettably did not make this long list. Several have broad bipartisan support and the backing of a majority of Kentuckians.
House Bill 136, for example, would have added the commonwealth to the 36 states where it is legal to purchase medical marijuana. A poll last year by the Foundation for a Healthy Kentucky found that a whopping 90 percent of Kentucky adults favor this move. The state House has approved this before, but because the Senate has refused to take up the issue, this year's legislation was not even assigned to committee.
The same fate happened to legalized sports wagering that would have been made possible by House Bill 241, whose bipartisan group of sponsors included five prominent committee chairmen. Since the U.S. Supreme Court made this type of wagering possible for all states in 2018, about two dozen have since legalized it, including four surrounding us. In Indiana, more than $3 billion has been wagered on games since the fall of 2019, a number that undoubtedly would have been even higher had COVID-19 not shut down much of the sports world for extended periods during the past year.
Another issue long past due is an effort to make it possible for Kentuckians to restore voting rights for most felons after they complete their sentence. Governor Andy Beshear's December 2019 executive order lifted that ban for many with a non-violent record, but it will take a constitutional amendment like the one found in House Bill 464 to make it permanent. It's time for Kentucky to join the vast majority of states that have long made this process automatic.
Speaking of voting, the legislature did pass a significant new law this year that will permanently add three extra days to cast a ballot in person, make it easier to request absentee ballots online, and let counties open voting centers that anyone registered in the county can use.
That's positive progress, but we should also have approved House Bill 72, which would have authorized excuse-free absentee ballots; House Bill 71, which would have aligned Kentucky with most states than already ban straight-ticket voting; and House Bill 182, which would have allowed same-day voting registration, something 21 other states now allow.
Another voting-related proposal that needed to pass was House Bill 23, which would have created an outside redistricting commission to draw fair maps for state and federal legislative seats so they are properly aligned with 2020's U.S. Census numbers. It is vital that we end the practice where legislators pick their voters rather than the other way around. This gerrymandering is a root cause of the political polarization plaguing our country.
Economically, Kentucky is long overdue to raise its minimum wage, which hasn't changed since 2009. In 2017, Governing magazine reported that 4.6 percent of all hourly workers in the state were earning this pay, the highest percentage in the country.
In the years since the last increase, these workers – many considered essential during the pandemic – have had to weather the Great Recession and COVID-19 without an extra dime to show for their work. House Bill 34, which would phase in increases until the minimum wage reached $15 an hour by 2028, would have made a profound difference in their lives.
House Bill 406 and House Bill 78, meanwhile, would have provided a better economic lifeline for many Kentuckians by improving the unemployment insurance system that was plagued by cuts and outdated technology long before the pandemic arrived. The former bill would have made this safety net much stronger in the years ahead, while the latter would have extended eligibility to include victims who lose their jobs because of domestic violence or similar situations.
During the early days of the legislative session, the women who serve in the House Democratic Caucus unveiled a slate of 21 bills collectively known as the Kentucky Maternal and Infant Health Act. Those proposed to do such things as make it easier for pregnant women to enroll in health insurance, ease costs for things like breastfeeding equipment, better treat maternal depression, and more accurately spot and then address maternal and infant health disparities tied to race and poverty.
Two similar proposals – one helping pregnant women who are incarcerated and another that will compile demographic data on child and maternal fatalities – did become law this year, but all other bills in this act deserve to be on the books as well.
The same goes for House Bill 19 and Senate Bill 30, both of which sought to end the barbaric practice of conversion therapy for those LGBTQ youth under the age of 18.
While I wish these and other worthwhile bills had become law this year, it is worth noting that I am also grateful that several egregious proposals did not make it through the legislative process, either.
There were bills that would unfairly penalize transgendered youth, ban all mask requirements designed to limit disease, try to force private companies like Facebook and Twitter to maintain social media posts violating their policies, and criminalize non-violent protests like we have seen over the past year.
I would like to hear your views about these and other issues affecting the state, because most if not all of them will be before us again when the General Assembly reconvenes at the Capitol in 2022.
You can email me at [email protected], and you can also leave a message for me or any other legislator by calling 1-800-372-7181. This is a toll-free line staffed during normal business hours each weekday. I'm on social media as well. My Twitter handle is @tinaforkentucky and my Facebook page is State Representative Tina Bojanowski. If you would like to read these or other bills, their text and other legislative information can be found at the General Assembly's website: legislature.ky.gov.